Neighbors oppose Milledgeville subdivision | News
More than twenty neighbors living on Milledge Avenue and Doles Boulevard in Milledgeville are worried about a $7 million development being built.
It's called The Boulevard and will consist of more than 30 homes for rent and purchase, three of those homes are already in construction. But neighbors say they're worried about traffic coming in and out of their quiet neighborhood.
Claire Davis spoke with them and the developer to learn more about the project.
Gail Yeomans has lived on Doles Blvd. in Milledgeville for eight years. "It was a quiet neighborhood. You could sit out in your yard and just relax," said Yeomans.
But Yeomans says she's worried that calm atmosphere may soon disappear. "What we're against is the traffic because they're going to be four bedrooms, each of them are gonna have cars. And that's a lot of traffic coming by our house. This road is a small road and around the corner is small road," said Yeomans.
A $7 million subdivision with homes for rent and sale are being built by real estate developer Gary Spillers. Spillers says after hearing neighbors concerns, he conducted a traffic study to see how many cars traveled down Doles Boulevard and Milledge Avenue. "There's only 87 cars that go by on that road over a 12-hour period of time. And, you know, that's seven cars every hour. So that is no traffic," said Spillers.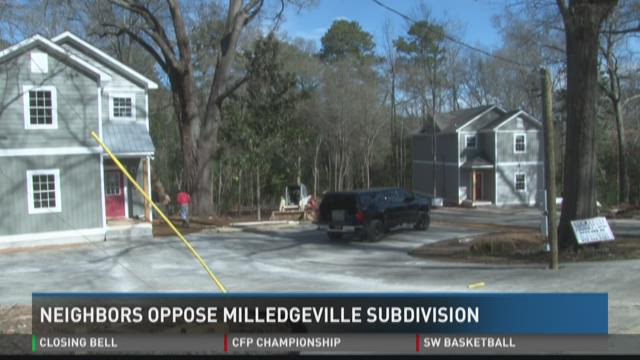 But Yeomans says folks in the neighborhood are worried because a new development means more people, which also means more cars. "The college kids mostly live around the corner and with that division coming in there would be a lot more traffic. And that's the main thing. It's not the college kids, it's the traffic and the noise, especially on the weekends," said Yeomans.
She's also worried about parking...she says she's had several cars park in front of her home and even in her driveway. But Spillers says each home will have its own driveway, eliminating the problem all together. "This parking area right here. I mean, look over there. Everybody's got cars in their yards. I mean, all of ours will be off the street parking," said Spillers.
Spillers says three of the homes will be ready by the end of February and he hopes to see the rest of the subdivision complete in around six months.
Milledgeville City Council will conduct a public hearing Tuesday night on the development.
It starts at 6:30 pm tomorrow in the Milledgeville Police Department Courtroom. That's on West McIntosh Street.