Baldwin Co. Salvation Army surprises Milledgeville family | News
One Milledgeville family says they didn't think they would have food, much less gifts for Christmas this year, but the Baldwin County Salvation Army changed all that. Claire Davis met with the couple today to learn more about their challenging year.
Vanessa Hiller and her family haven't had an easy year. Vanessa was in a car wreck a few months ago, leaving them without transportation. "I ended up losing my other job because I couldn't get to work and back anymore. So I just kinda started walking around looking for a job," said Hiller.
She says the money her husband Gregory makes in construction is barely enough to pay the necessities like rent and utilities, and putting food on the table was another challenge. That led the couple to make a difficult decision - keep their youngest daughter Ava with them, and send their three other children to Tennessee to live with family members. "We're trying to get up there, too. But you know, unfortunately, everything is financial. Unfortunately, that's the reality of life, especially when you have children like we do. Everything revolves around money, and that's unfortunate, but it is the case," said Hiller.
Vanessa says struggling to make ends meet is hard, and Christmas wasn't even on her list of things to do this year. "When there's no money left over, there's just not," said Hiller.
But hope wasn't lost. Cornelius Gibbons, a sales clerk at the Baldwin County Salvation Army, found out about the couple's story. "You could see that this lady was really in need," said Gibbons.
And what happened next Vanessa says she couldn't believe. "They just started coming out with all this food you know that we needed, and now the children can come. See, now I can even give them a Christmas, because now we have presents to give them. Now we have this abundance of food to feed them and gifts that I didn't even think were gonna be here at all," said Hiller.
Vanessa's husband Gregory says when he came home from work he was blown away. "It's not just one toy for each kid, I mean, look, it's just a bunch of toys for all the kids, you know," said Hiller.
They say the food donation was the kickstart they needed to get back on their feet and the gifts, Vanessa says that's just the cherry on top.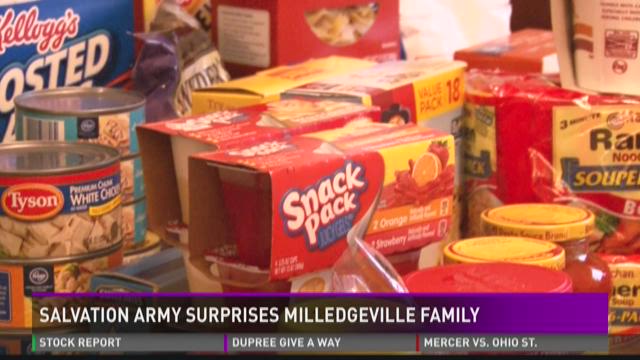 Vanessa landed a job at a restaurant in Milledgeville Tuesday afternoon and is looking forward to seeing what 2016 will bring. The donations came from private donors, the Salvation Army, First Methodist Church in Milledgeville and the Georgia State Patrol.