Milledgeville group combats drive-by shootings | News
After fifteen drive-by shootings in Milledgeville since July, one group and pastor say they want to bridge the gap between the community and law enforcement to end the violence.
The Milledgeville Area Patriots and Northridge Christian Church Pastor Mike Waers sat down with Claire Davis on Monday to tell us how they're planning to do that.
Chair of the Milledgeville Area Patriots, Janice Westmoreland, says the recent string of fifteen drive-by shootings since July are disheartening and shocking. "People are sitting in their homes and their safety is at risk and it's very sad," said Westmoreland.
But she says it's motivating the Patriots to do something. "We need to talk about it. We need to inform people and just be involved in whatever opportunity comes our way," said Westmoreland.
The Patriots are creating focus groups and inviting law enforcement to address people's questions about the crimes. The group says it's a way for everyone to connect and build relationships between the average person and police. "I would like them to get more out in the public. Tell us what they want to do, what they would like for us to do to help them." said Westmoreland.
Vice Chair of the group, Harry Keim, says it starts with educating folks and having conversations to ultimately make an arrest. "It's the citizens that are going to do this. You know, there are only so many police in this area. And we still don't have any knowledge of who's doing it." said Keim.
Unifying the community and supporting law enforcement is something Northridge Christian Church Pastor Mike Waers says will also help. "We can't have-haves and have-nots. We've got to say this is our community and take it back and when people are doing things that are wrong we've got to be ready to say we're not going to put up with that," said Waers.
We reached out to Baldwin County Sheriff Bill Massee. He said the shootings are still under investigation and his department is following up on leads, but he declined to comment further.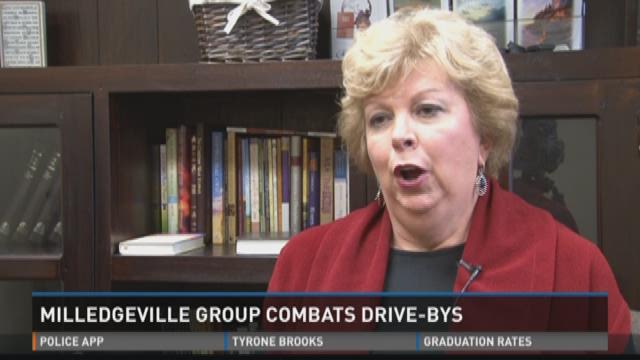 There is a $10,000 reward for any information leading to an arrest, you can call Crime Stoppers at 1-877-68-CRIME.
For more information on how you can get involved with the Milledgeville Area Patriots and learn more about the forums, you can visit their facebook page.
Interactive Map: Milledgeville drive-by shootings
ALSO: Milledgeville mayor addresses shootings