Fall Line Freeway to open in Milledgeville | News
The Georgia Department of Transportation (GDOT) has completed a 3.5 mile roadway in the Milledgeville area. It's part of the Fall Line Freeway project that runs from Columbus to Augusta. But the new road will connect Central Georgia drivers to a number of frequently traveled places.
GDOT District Communications Officer, Kyle Collins, said, "Additional access from State Route 112 on the south side of Milledgeville, that's Vinson Highway, to hop on Fall Line Freeway to get to Highway 441, and also continue on the Fall Line Freeway to get to Ivey, to Gordon, Wilkinson County, to get to Macon, Columbus."
Collins said the state also hopes the Fall Line Freeway will help reduce some of the large truck traffic through downtown Milledgeville.
"Obviously, it's not going to eliminate all of it because those are still state routes, you know, that trucks can drive through," Collins said. "But we think they would prefer, you know, if they were coming from Washington County or Wilkinson County, to bypass downtown Milledgeville to come through this roadway because it's a 65 mile per hour speed limit."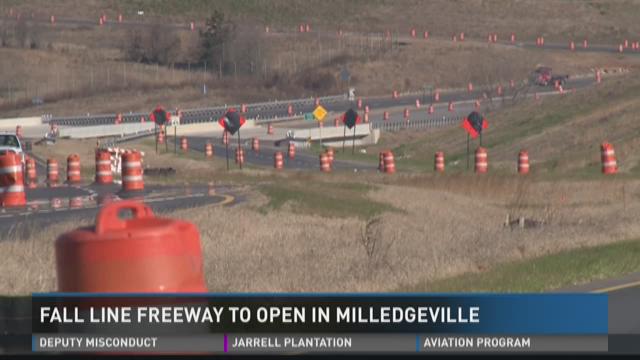 Collins said the new road should cut down commute times from 10-30 minutes depending where you're traveling to.
"You know, our number one job is to help out the public, make it safer for them to get from point A to point B," said Collins. "Whether it's their morning commute, or like we said before, whether it's for economic development, so trucks can get where they need to go and if we can cut 10 or 15 minutes down on their commute time, then that's going to save folks a lot of money over time."
The 3.5 mile portion of the Fall Line Freeway opens Tuesday January 19th. in Milledgeville, The next section of the Fall Line Freeway will be a 9.1 mile stretch near the Wilkinson and Baldwin areas, due to open in October.